BC Bestsellers
For the week of Feb 19, 2017
Bestseller List
The BC Bestseller List is compiled using sales data from over 80 independent bookstores in BC, which is provided to the ABPBC by TBM BookManager. The list represents sales of BC published books released within the calendar year.
---
Welcome
The Association of Book Publishers of BC (ABPBC) is a trade association, founded in 1974, whose aims are to foster an environment in which our members will flourish and to expand an awareness of the value of books in all our lives. We are the largest regional affiliate of the Association of Canadian Publishers.
For more information on our member-driven association go to Who We Are.
See all our members in our Member Directory
News & Events
February 20th, 2017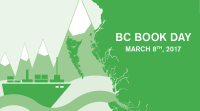 On March 8, 2017, the BC Legislature will host the fourth annual BC Book Day, offering an opportunity for MLAs and their staff to meet with the province's publishers, authors, festival directors, librarians, and booksellers and to celebrate BC books. This year the date coincides with International Women's Day; books on display will highlight the breadth of BC-published titles by, for, and about women. The Honourable Judith Guichon, Lieutenant Governor of British Columbia; the Honourable Shirley Bond, Minister of Jobs, Tourism, and Skills Training; and the Honourable Peter Fassbender, Minister of Community, Sport and Cultural Development, will offer remarks as part of the celebration. Following the display, a proclamation declaring March 8, 2017, as BC Book Day will be read in the Legislature.
We encourage publishers, authors, booksellers, and readers alike to share their BC reads and celebrate BC Book Day on March 8th by using the hashtag #BCBookDay on social media.
February 15th, 2017
The Association of Book Publishers of BC thanks the Government of BC for its renewed support of the British Columbia Book Publishing Tax Credit. Established in 2003, the credit is an effectively administered structural support that enables BC-owned publishers to grow their businesses strategically in the face of market volatility and low operating margins. BC publishers are pleased that this government recognizes the economic, educational, and cultural value of books in the lives of the province's citizens and communities. See more on the renewal here.
See more news & events.