News & Events
Our most recent reports
Presenting, Launching & Holiday Shopping!
October 27th, 2010
New Star Books presents, Anvil Press launches and the ABPBC offers up a holiday gift giving guide.
New Star's author Carellin Brooks presents on Wreck Beach at the Vancouver Historical Society

Thursday, October 28th, 7:30 pm

Museum of Vancouver
, 1100 Chestnut Street, 
Vancouver, BC

Admission is free and books will be available for purchase.
Anvil Press invites you to join them for the launch of Making Waves: Reading BC & Pacific Northwest Literature edited by Trevor Carolan
Thursday, October 28th, 7:30pm
Cafe Montmartre, 4362 Main Street, Vancouver, BC
Free admission.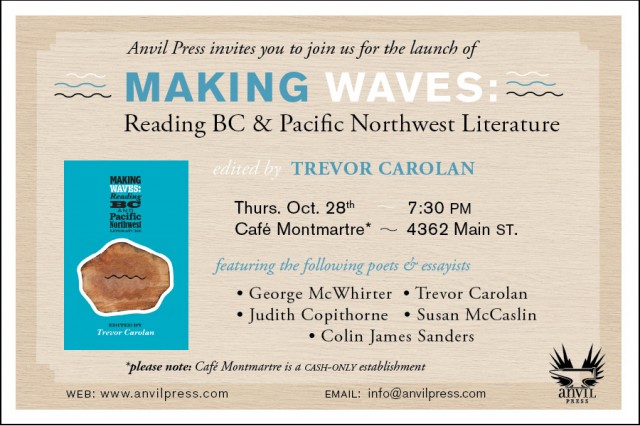 The ABPBC invites you to check out our latest Read BC Books section: Home for the Holidays. Browse the selection of BC books for holiday gift giving ideas.