News & Events
Our most recent reports
Free Poetry in Transit Posters!
November 6th, 2013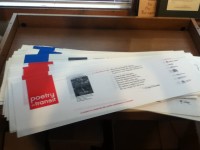 After 17 years of installing Poetry in Transit cards on buses and skytrains, we find ourselves with boxes of posters that would look much better on your walls than they do in our office. We invite you to come down to our office and pick up some free posters. Email us at admin@books.bc.ca to make arrangements.
Brighten up your walls, celebrate BC poetry and help us make room for another 17 years of Poetry in Transit.