News & Events
Our most recent reports
ABPBC mourns the passing of Jim Munro
November 24th, 2016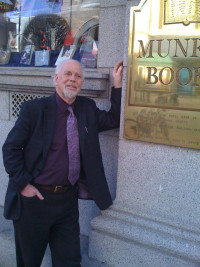 We were saddened to learn that Jim Munro, co-founder of the venerable Munro's Books in Victoria and a member of the Order of Canada, died suddenly on November 21, at the age of 87. As the Times-Colonist wrote of him, Jim was "a cultured, gregarious and dapper man-about-town" and a well-beloved figure in the BC book community.

Munro received the Grey Campbell Award from the ABPBC in 2009. The award citation read, in part:
With the demise of the independent bookstores in this country a visit to Munro's Books borders on nostalgic. Jim Munro's gorgeously restored Royal Bank head office on Government Street in Victoria – for which he has received numerous heritage awards – reminds us of what good bookselling is. Stacked floor to ceiling with appropriately ordered titles; those of us who work in the industry enter and breathe a sigh of relief.
In 2008, Munro's Books celebrated 45 years of bookselling. In that time Jim Munro promoted Canadian and especially British Columbian books at his store, buying BC publisher's titles, promoting them to his customers and working with the industry to produce the books he knew would sell. Like all booksellers Jim Munro was on the frontlines testing public tastes and satisfying their desire for books about our province and from our talented writers. "The growth of the publishing industry in BC and its unique character," says ABPBC Executive Director, Margaret Reynolds, "has emerged as a result of the relationship between our early publishers, the strength of the library community, and the support of booksellers like Jim."
Jim, who began Munro's with his former wife, writer Alice Munro, in 1963, gifted the store to his employees in 2014. The ABPBC sends condolences to Jim's family, and to the Munro's Books staff.
Former ABPBC ED Margaret Reynolds, Howard White of Harbour Publishing, and Ian Cochran, partner at Munro's Books, were on Roundhouse Radio's Sense of Place program yesterday to speak with host Minelle Mahtani about Jim's legacy. Listen to the segment online.